How to choice the good connecting rod ?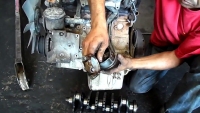 Choosing the proper connecting rod for your application is as vital as selecting the correct camshaft. It's also just as involved of a process, one in which you should know several things about your combination
There are several factors that those consulted agree should be considered when selecting rods. Aside from the engine's basics, such as the stroke and displacement, you also need to know the following:
Piston package weight (piston plus rings)
Operating rpm
Horsepower
Torque
Block type
Crank material
Compression ratio
Heads
Cam specs
Weight of vehicle
Rod selection eventually all comes down to relying on the manufacturer and engine builder to deliver the proper package for a particular engine application. Choosing the proper connecting rod for an engine will help to ensure the best outcomes possible on race day, and should also increase the useful life of that engine.