How can we diagnosis the connecting rod bearing ?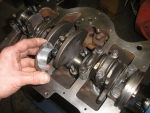 Plug Wire Removal
1. One way to identify the cylinder connected with the faulty rod bearing is to open the car hood and pull out all spark plug wires one by one.
2. After removing each wire, turn on the engine and check if the knocking sound still persists.
3. If the sound is eliminated, this means that the cylinder from where the plug wire was just removed has a faulty bearing on its connecting rod.
Visual Inspection
1. One can visually inspect the bearings to see if they are damaged or excessively worn-out, without removing parts of the engine.
2. First, raise the front wheels with a jack, and get under the engine, after setting the parking brake.
3. Then, remove the long drainage bolt from the oil pan with a wrench, to drain off its oil. Make sure to keep a catch pan underneath to prevent spills.
4. If the oil contains metal shavings, then it is a warning sign of bearing failure.
5. Finally, remove the oil pan by loosening the bolts surrounding it.
6. Remove and inspect the bearings for any damage.
7. If rather than a smooth wear all over, the bearings show scratches, dirt buildup, discoloration, or pitted surfaces, then they need to be replaced.