Steps to check engine oil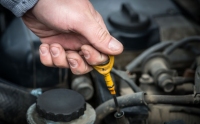 Your engine needs to be warmed up and the car should be parked on a level spot.
1.Shut the engine off and set the handbrake. Wait for a couple minutes to allow the engine to cool down. Open the hood and locate the engine oil dipstick; in most newer cars it has a yellow handle that says 'Engine Oil'. Your owner's manual has a map of the engine compartment within the 'Do-It-Yourself Maintenance' section. The oil dipstick and the oil filler cap are marked on this map.
2.Pull the dipstick out. Be careful, some parts of the engine could still be hot. Hold the rag or towel under the lower end of the dipstick so the oil won't drip onto the engine.
3.Wipe the dipstick out with a clean lint-free rag or paper towel.
4.Insert the dipstick back into the tube until it's fully seated.
5.Pull the dipstick out again and check the oil level. The dipstick has two marks that stand for "Low" and "Full." The oil level should be between those marks. In some cars, a dipstick has a cross section instead of marks; in this case, the level should be within the cross section. Once again, if in doubt, check your owner's manual. After you're done, make sure to put the dipstick back in its place.