How to clean yourself the clogged catalyctic converter?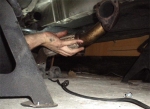 Step 1 – Safety
Be sure your vehicle is parked on a hard, flat and well it surface. Open the hood and lift the prop rod. Secure the prop rod in position to keep the hood of the car open. Put on your protective eye wear before you begin.
Step 2 – Removing the Catalytic Converter
Use a wrench to loosen and remove the bolts that secure the converter into position. Place the bolts in a safe place until you need them again. Remove the catalytic converter from your exhaust system.
Step 3 – Inspecting the Converter
Inspect the converter for any damage. Shake the converter and listen for any noises.
Step 4 – Cleaning the Converter
Use a cleaning cloth to wipe away any residue from the face of the converter. Use the power washer to force any built up debris out of the converter. Force the water into the inlet and outlet pipes.
Step 5 – Allowing the Converter to Dry
Allow the catalytic converter enough time to dry completely before you position it back into the exhaust system.