Car service manual VS Local dealership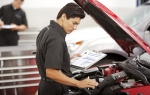 The car's service manual is the best way to learn how to maintain your car. The factory representatives who designed and built the car wrote it. It stands to reason that they should also know how best to keep everything running smoothly.
Now consider the role of the service advisor at your local dealership. This person is certainly knowledgeable about your car. However, the service advisor also gets a commission for all work done on your car.
In another instance, the car's manual may say that the automatic transmission fluid doesn't have to be changed until 80,000 miles, but the service advisor says it's best to change it at 30,000 miles. Who's right? Consider this: The service advisor gets a commission for all the parts and services he sells. So his opinion isn't exactly unbiased.
Regarding new vehicles under warranty

If your car is less than three years old and has fewer than 36,000 miles (or whatever the terms of your warranty are), mechanical problems will be fixed under the bumper-to-bumper warranty for no charge. However, this doesn't cover wear items like brake pads, and your car will still need "routine maintenance" for which you will have to pay. Routine maintenance is most often oil and filter changes, tire rotations and various inspections. After about the length of your warranty, the routine maintenance often becomes more involved and more expensive.