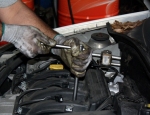 How to replace an Ignition Coil ?
1. Open the hood and locate the vehicle's ignition coil.
2. Connect the spark tester to the ignition coil output.
3. Crank the engine to verify a spark.
4. Follow a wiring diagram to determine if the coil is power or ground side controlled. If controlled by ground, connect the test light clip to the power side of battery and touch the test light to the negative side of the coil.
5. Crank the engine and look for the test light bulb to flash.
6. Disconnect the negative battery terminal and electrical connections to the coil.
7. Remove the coil wire to cap.
8. Remove the ignition coil from vehicle and install a new ignition coil.
9. Reverse the removal procedures for installation.
10. Start the vehicle and perform a road test to verify the ignition coil is working properly.