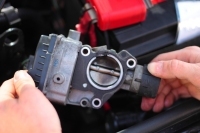 What common symptoms indicate you may need to replace the Throttle Body?
A dirty throttle body may affect engine performance, so it's important to have it serviced. If you don't, you may experience one or more of these symptoms :
- Check Engine light is on.
- Warning message on dashboard for "Reduced Power."
- Poor car performance.
- Lack of power.
- Vehicle does not idle properly or engine does not run smoothly.
- Poor shifting of transmission.