How to clean an EGR Cooler?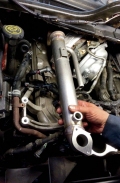 Instructions:
1 Turn off the car and open the hood.
2 Remove the intake manifold hose and the air intake hose from the manifold typically found on the side of the engine.
3 Unplug the PVC heating element.
4 Remove the changeover valve of the intake manifold by removing the two hex bolts.
5 Remove the vacuum lines of the anti-shudder valve and EGR.
6 Remove the turbo intake pipe by removing a clamp and a hex bolt.
7 Remove the three bolts that secure the EGR.
8 Apply de-greaser to the intake of the EGR and wipe it clean.
9 Re-assemble the components you removed from the engine compartment using new gaskets.