Worn Out Spark Plugs
In many vehicles a common cause of engine vibration is worn out or faulty sparkplugs. Worn out or dirty sparkplugs will cause the car's engine to misfire or not properly fire on each and every cylinder. When this occurs, it is commonly referred to as the engine missing or not firing on all cylinders. This can usually be corrected by installing new sparkplugs or correcting other spark or compression-related issues.

Loose or Disconnected Hoses
Loose or disconnected hoses can also be a common cause of many types of engine vibration. A loose or disconnected air hose or vacuum hose can cause quite a bit of violent shaking and vibration in your car's engine. To correct the problem, simply look for any loose or disconnected hoses and reattach them and replace them as needed.
Broken Motor Mounts

If the vehicle shakes violently or the engine vibrates excessively when stopped at a red light or when parked with the engine on, this may be a good indicator that the motor mounts or transmission mounts on the vehicle are damaged or broken. A good way to tell if this is the problem is to simply put the car in neutral and see if the vibration or shaking decreases a bit. If it does, this is a good sign that there may be problems with your engines motor mounts and you should have the engine inspected by a qualified repair shop or professional mechanic.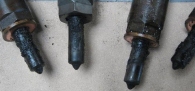 Faulty or Poorly Adjusted Fuel Intake System
Another common problem that causes engine vibration and nasty shaking is a poorly adjusted fuel intake system. Sometimes, idling problems that cause engine vibration may be as simple as adjusting the idle on a carburetor or cleaning components in the fuel intake system so that fuel passes through the engine more easily creating cleaner and more efficient combustion your car's engine.
Faulty Timing Belt

Problems with your vehicle's timing belt, or other belt driven accessories, are another common cause of engine vibrations in vehicles. Timing belts and other belts that are loose or damaged will cause components controlled by belts such as fans and other parts to not rotate or turn a consistent speeds which will result in strange sounds and vibrations from your car's engine. To avoid these types of problems, you should frequently inspect all of the belts in your vehicle to make sure that they are free from crakcs and ribbing and also make sure that the belts are tight and operating as they should.